Ideally, the title should be "The Banana Plant, the Short-nosed Fruit Bat, the Mast Tree and the Tailed Jay". I did not put up this title fearing that it would scare you all and also due to the lack of space for such a lengthy title.
Recently, I was casually looking at the wild growth in my garden. There were some jumping spiders amidst the foliage as well as many flies belonging to family Neriidae on the trunk of the drumstick tree. I also spotted a moth larva with a colourful head and busied myself photographing it.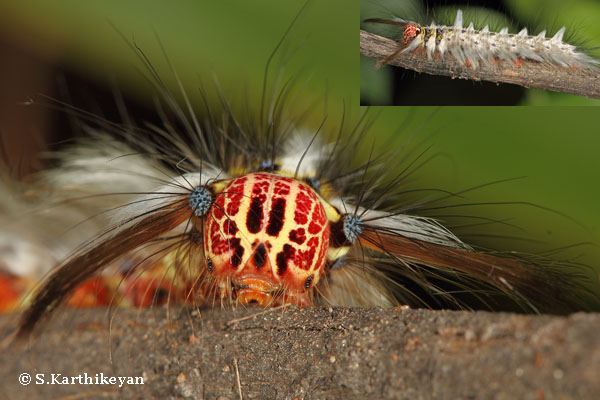 While doing so, I saw a Tailed Jay butterfly sitting under a leaf of the Mast Tree Polyalthia sp. not taller than 2 feet. The Tailed Jay is a very restless butterfly and not the most easily photographed. So, I approached it very carefully and hoped to get a good shot. As I positioned myself for the task at hand, I realized that the butterfly had just about emerged from its pupa and was sitting on the same leaf on which the spent pupa remained attached. I took pictures of the butterfly with its wings closed.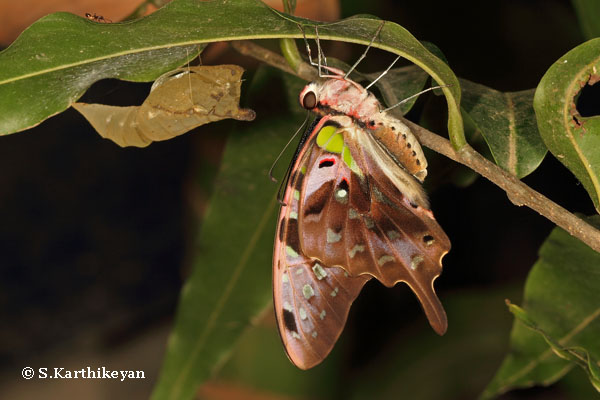 I had photographed the Tailed Jay with the wings open several years ago on slide film. Another opportunity had presented itself now. I knew that I had a good chance of getting a picture of the butterfly with the wings open if only I waited for the butterfly to attempt its first flight.
To kill time I looked around the garden for other things and found a large green mantis which was busy cleaning its legs. Photographing the mantis took quite some time.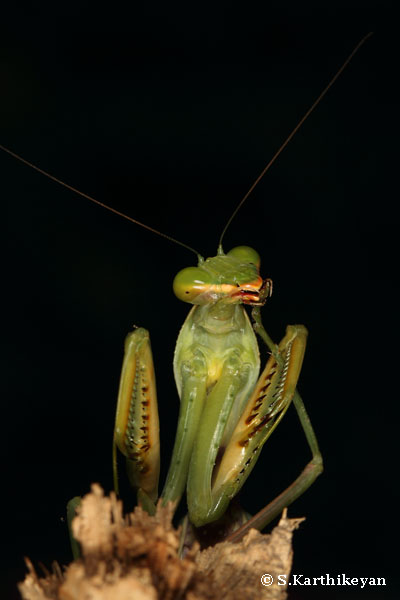 It was now time to visit the Tailed Jay again. I was really lucky. The butterfly had just started to fly weakly. On its solo flight it flew and settled on another plant nearby and I got an opportunity to get a picture of it with wings open.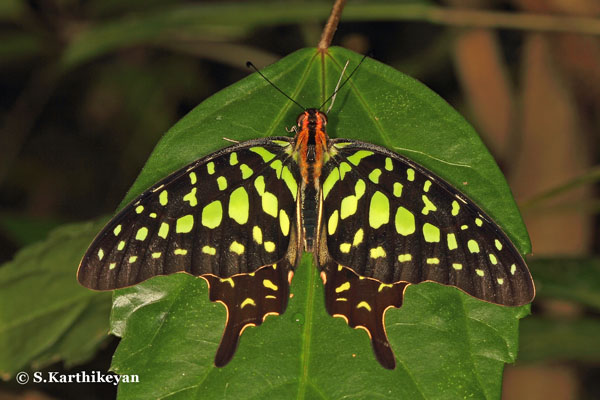 You must be wondering as to what happened to all the other characters in the plot. Well, this is just the first part. The other characters will come into the story in the next post.