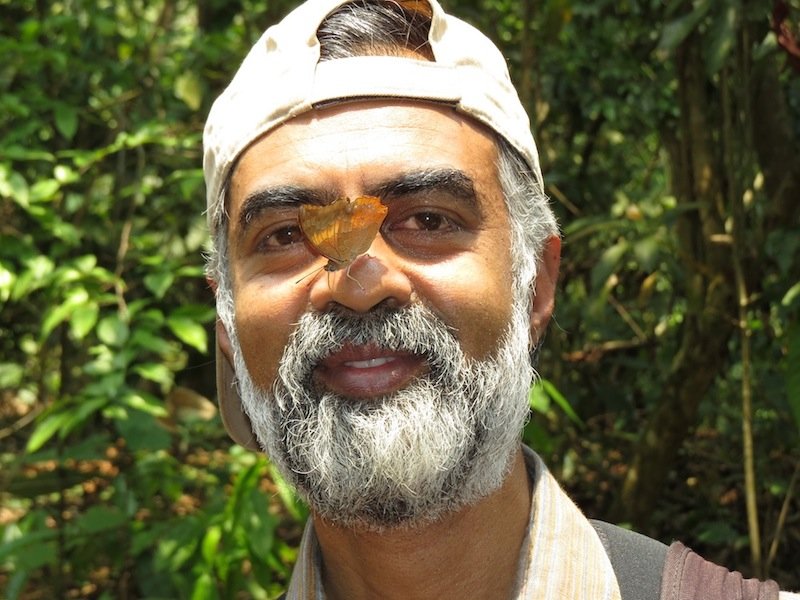 Karthikeyan S, known to most as Karthik, has nurtured a deep love for wildlife for over 30 years. He is an avid birdwatcher and also has a keen interest in butterflies. As an amateur photographer he has till date photographed a wide variety of subjects including butterflies, landscapes, wild flowers, flowering trees, lesser mammals, birds, reptiles, amphibians and other insects. Many of his works have been published in leading dailies like Deccan Herald, magazines like March of Karnataka, Sanctuary Asia, The Bengaluru Pages and Newsletters of WWF-India and publications like – Some South Indian Butterflies, Amphibians of Peninsular India, A Field Guide To Indian Mammals, Encounters in the Forest, A Photographic Guide to Birds of India and Nepal, 'A concise field guide to Insects and Arachnids', Mammals of South Asia (Vol. 1), Garden Climbers and publications of Centre for Environment Education to name a few.
Karthik has been educating and creating awareness among the young and old alike on various aspects of natural history through nature camps, talks, slide shows, and nature-based activities.
He has undertaken various faunal surveys including those at Biligirirangaswamy Temple Wildlife Sanctuary and Devarayanadurga State Forest and Bannerghatta National Park. He has also done a project on the little known Indian Tree Shrew.
The Fauna of Bangalore: The vertebrates and butterflies of Bangalore – A Checklist that gives a listing of mammals, birds, reptiles, amphibians, fishes and butterflies published by WWF-India, Karnataka State Office was authored by him. He has co-authored a booklet comprising of activities targeted at high school students titled Ideas for Outdoors – Plants also published by WWF-India, Karnataka State Office, Bangalore. He has also published a pocket book titled 'Avenue Trees'.
He has over 50 technical publications in International/National journals and periodicals and over 85 popular articles (most with supporting pictures) in leading dailies, magazines and other periodicals. Prior to joining Jungle Lodges and Resorts Ltd. as their Chief Naturalist, he was working with WWF-India for over 13 years.
He was conferred the Carl Zeiss Wildlife Conservation Award in March 2013.
In the Press
CitizenMatters : Ready to escape into the woods?
On the Web
Article titled "Perfect Symphony" published in The Hindu
http://www.hindu.com/mp/2009/10/12/stories/2009101250560200.htm
Article titled "At Cubbon Park, under the greenwood trees"
http://www.livemint.com/2010/09/02200516/At-Cubbon-Park-under-the-gree.html
Article titled :
Karthikeyan S: A lifetime devoted to protecting Karnataka's wild
Last Wilderness Foundation : A Conservation about Conservation
Book review:
1. http://www.conservationindia.org/resources/book-review-discover-avenue-trees-a-pocket-guide-by-karthikeyan-s
2. https://bijalvv.wordpress.com/2014/06/23/trunk-call/
Contact Email : palmfly AT gmail DOT com