I write this piece with a heavy heart as I just learnt that Mr. Lavkumar Khachar is no more. I have had the pleasure of interacting with him on multiple occasions and talking to him on the phone many a time. I have gained much during my interactions with him. He was also a constant source of encouragement. He would always say "…keep writing, son." All I will say here is …Thank you Sir for lighting up my path! I hope that all those who you inspired will carry the baton forward. This piece is a dedication to one of the stalwarts and visionaries of our times.
It was many years ago. This was around the time I had just begun looking at the natural world with curiosity. We were living on the outskirts of the city (the area is now engulfed by the growing city!). Our residence was surrounded by a large open area that was laid waste and it had some wild growth.
A large spider found our home suitable and decided to stay on. I eventually learnt that this spider is called the Banana Spider or the Giant Crab Spider Heteropoda sp. Very soon, I realised that these spiders were catching cockroaches at night. This was reason enough to see the spider favourably. As a family, we just let the spider be whenever it was seen. We were rewarded indeed – our home had almost no roaches!
My initial interest in spiders was short lived. However, in more recent times, I got an opportunity to renew my interest in spiders. During this phase, I recollected my old observations and saw them in different light. So, I set out to get a better understanding of spiders as predators.
Primarily predatory in nature, spiders have been around for 400 or so million years. The strategies they use to capture their prey are as varied as their prey themselves. There are web building spiders that trap their prey. I am sure that all of us at some time or the other have seen a mosquito stuck in a spider's web – often inside our homes trapped in the web of a Dancing Spider!
If you have a garden, you may have seen webs built among the foliage. Keep an eye on the webs around and you are likely to see some action. You could see an insect flying into the web, the spider rushing in to secure the trapped prey, feeding on it and then disposing off the remains, repairing the web and waiting for another unsuspecting insect to fly in. It is not necessary that all trapped insects get eaten. At times, you may see insects caught in an abandoned web as well.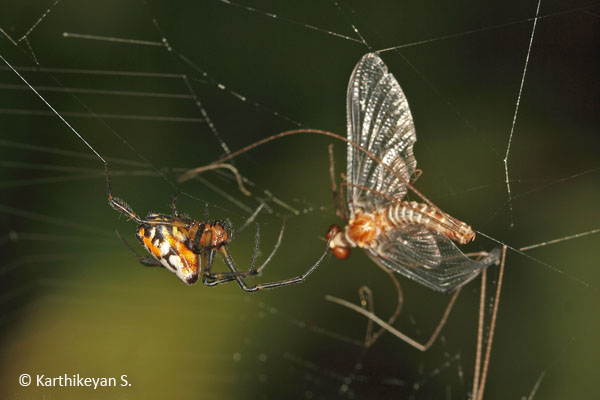 Mayfly entangled in the web of Opadometa fastigata, an orb weaver.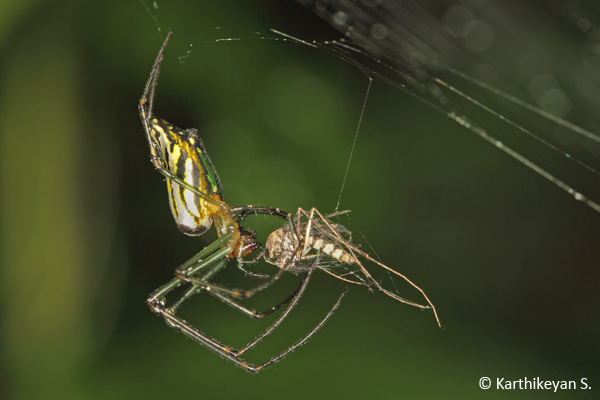 Leucauge decorata feasting on a mosquito.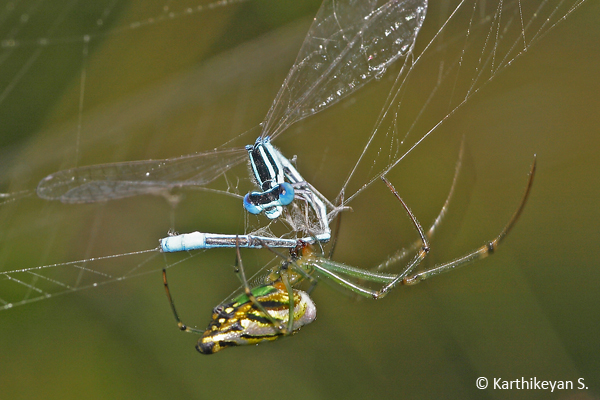 A damselfly in the web of Leucauge decorata
There are spiders that prefer to sit and wait like some crab spiders do and there are others like the jumping spiders that are active hunters. Both do not build a web to catch their prey. Crab spiders lurch inside a flower to catch an unwary prey coming in for nectar.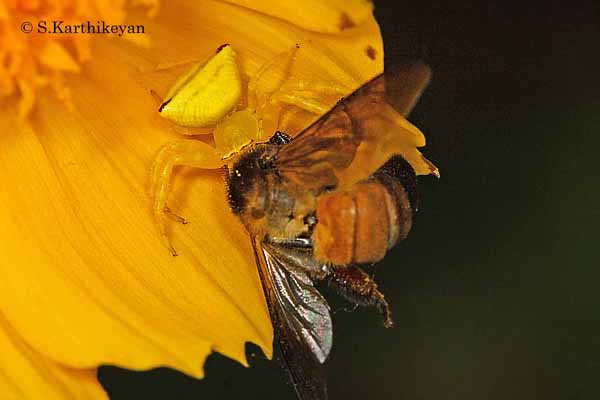 An unsuspecting bee becoming a meal of the hiding crab spider Thomisus lobosus that waits inside flowers.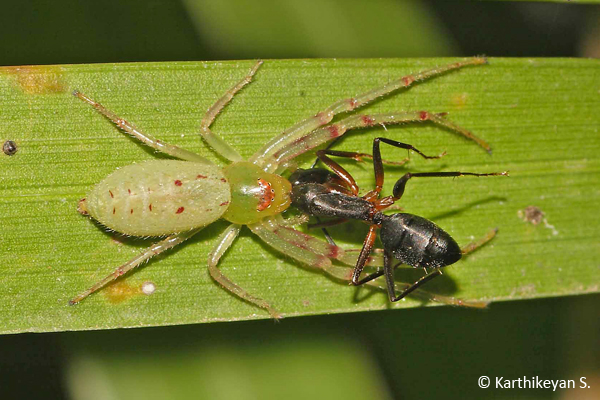 An active Crab spider Oxytate elongate feeding on an ant Camponotus sp.
Jumping spiders actively look for their prey.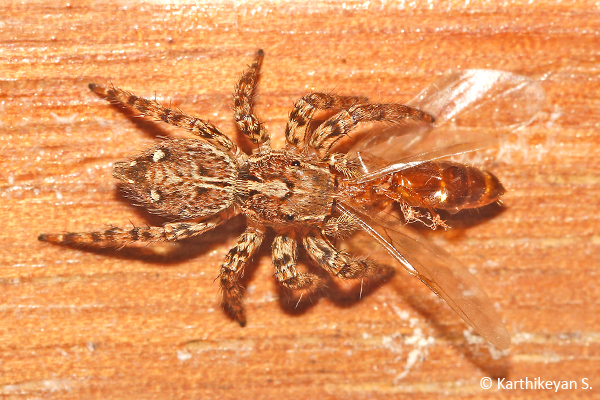 Plexippus sp. – a jumping spider feeding on an ant alate.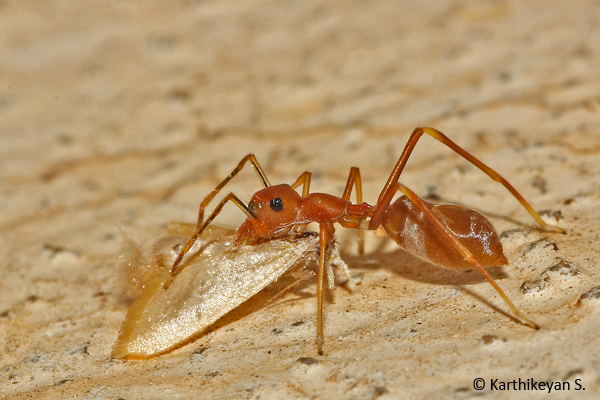 An ant-mimicking jumping spider Myrmarachne sp. with a moth in its jaws.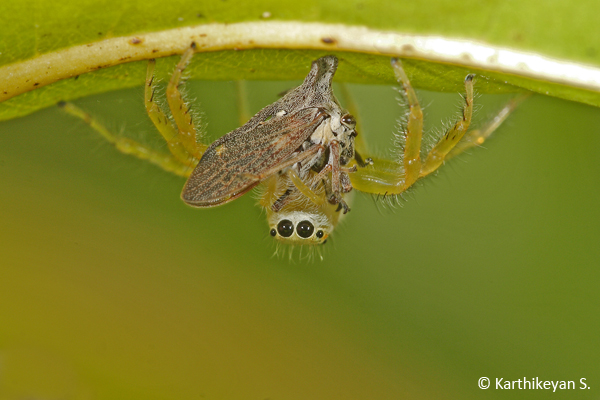 Another jumping spider Epeus sp. feeding on a planthopper.
Often, habitat preference, size of the spider itself, strategy used, time of the day they are active have a bearing on the size, kind and number of prey they feed on. Over the millennia, spiders have perfected the art of predation. By virtue of being predators, spiders as a group can have a big influence on populations of several species of smaller organisms – particularly insects.
Research has shown that spiders could have a significant contribution in keeping pest populations low not just in our vicinity and gardens, but in a variety of agricultural situations (agricultural fields, orchards, etc) too.
The role of spiders as pest-controllers or bio-control agents is being understood and increasingly appreciated. So, think twice before spraying those toxic chemicals on your garden plants. We may actually be eliminating the spider that is not only keeping the pest under control but also providing moments of excitement if only we cared to observe!
Read related stories :
Preying Spiders
Spider and the damselfly
Mayfly
Crab Spiders