We (Vidya Venkatesh and I) recently ventured into the forests of Jeypore-Dihing in Assam between April 24-29, 2011. The primary intent of the trip was butterfly-watching. Though 2 days of our trip were washed out due to heavy rains, the rest of the time spent in the field yielded over 80 species of butterflies.
On April 26th, 2011 late morning, we sighted and photographed a Hesperid. Initially, when it flew and settled under a bamboo leaf we thought it could be the Water Snow Flat – a butterfly that we had seen already during the trip. However, on closer examination of the first picture that was shot (by VV) we realised that it was different. We quickly, shot more pictures of the butterfly. It was not until we got back to our respective home towns that we could identify the butterfly.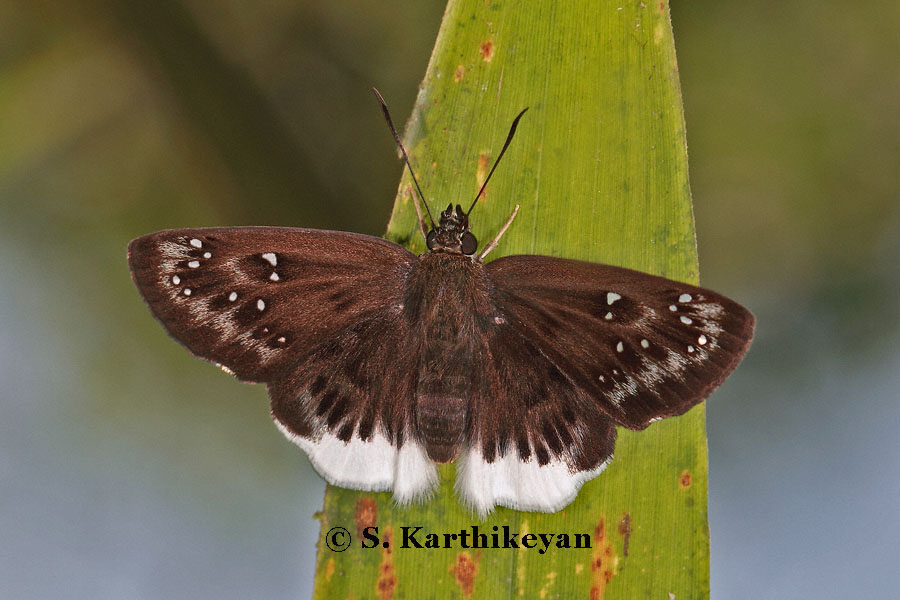 It turned out to be the Snowy Angle Darpa pteria. The Snowy Angle is an uncommon butterfly. The nominate race is known to occur in Philippines while the race dealbata has a wide distribution extending from Assam, Burma, Thailand, Laos, Malay Peninsula, Tioman, Borneo, Sumatra, Java, and Palawan.
This sighting and the subsequent photographic record of this species is perhaps the first in the recent times and also possibly the first photographic record of the species from within Indian limits.
All this was possible, solely due to the co-operation extended to us by the Assam Forest Department. We would like to thank Mr. Suresh Chand, Chief Wildlife Warden, Assam and Mr. Anurag Singh, DFO, Dibrugarh for according necessary permissions. We would also like to thank Mr. Daka,  RFO for his co-operation and hospitality.
Indian Foundation of Butterflies : Snowy Angle
Conservation India : Rediscovery of Snowy Angle Darpa pteria