This was during early 1990s. I had recently acquired a new gadget – an SLR! It was still those days when one used slide film in the cameras and most amateurs shot with some amount of thrift.
As part of my work, I was scheduled to travel to and stay at the Bhadra Wildlife Sanctuary for a longish period of time. And needless to say, I carried my camera loaded with a roll of slides! During one of the days at the campsite, I was walking past a Terminalia tree. I noticed, from the corner of my eye, a movement on its trunk. I stepped back to just make sure that I was not seeing things that did not exist.
After some careful searching, I recognised a form that was not part of the tree. It was a very curious looking and at the same time, a beautifully camouflaged little creature. The Pinocchio-like 'nose' caught my attention. Just a couple of frames were exposed and the camera was packed away.
Much later, the roll came back processed from the lab, slides were scrutinized with a loupe for quality, put away in an archival slide holder and forgotten…well almost.
Recently, while looking through my slide collection, my attention was drawn to this slide. I pulled it out, and scanned it. While all this was happening, I was reminded of a similar creature – with a Pinocchio nose – that I had shot in more recent times, only bigger and more colourful!
These insects with the long snouts belong to a group called the lantern flies. Yes. A misnomer indeed as they neither glow nor produce light nor are they flies! How they got their name is uncertain. Some have a snout that is as long as the body or longer, while some have the tip of the snout swollen!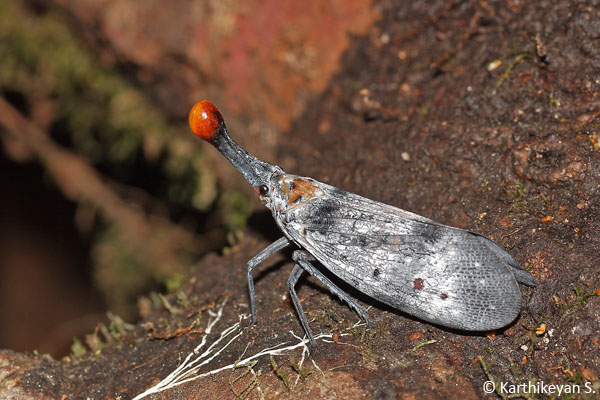 Lantern fly with a swollen tip to its snout – Pyrops cf. clavatus from Eaglenest, Arunachal Pradesh
The snout of these bugs are just extensions of their head and do not seem to serve any particular purpose.
Lantern flies are basically large bugs (Family Fulgoridae) with many species being brightly coloured. They feed mainly on plant sap. As a group, their diversity is highest in the tropics.
Often, one can see several of these bugs sitting on tree trunks. If you are trying to photograph them, make sure you do so from a distance lest they jump and go out of your camera's line of sight!